The NEXT generation eternaLight(tm)
Model X2 - "Rave'n2"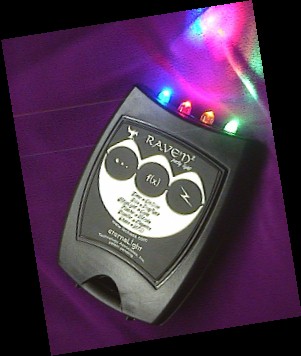 The COOLEST flashlights ever made!
Inspired by our original Rave'n and the Rave dance style,
like the original Rave'n this unit enhances dancing by providing cool
personal lighting effects but adds durability and some refined features.
Of course, it just may be the funnest flashlight you've ever owned,
even if you're not a kid!
However, KIDs LOVE these things!
Ages 6 to 60!

Cool features:


Battery life up to 500 hours!
Uses 3 regular AA alkaline batteries.
Up to 100,000 hour lamp life!
Water resistant up to 100 feet!
Concrete drop/shock resistant up to 10 feet!
Ergonomic shape - comfortable to hold!
Large strong lanyard hole - easily attaches to strings, ropes, clips, etc.!
Battery saving Timer!
Dimmable!
Visible from over 2 miles!
Special effects!
Colors combine to make a near white light flashlight!
Glow-in-the-dark keypad!
Mind BLOWING multi-color visual effects!
Plays games! 12 modes of FUN functions:

Timer - helps save batteries or lets you fall asleep in light without worry.
On/Dim mode - 9 levels of brightness! Lasts up to 500 hours on one set of alkaline batteries!
"Dice" game mode - pick a color, Rave'n(2) SPINS and picks one! Great for chance games and other amusements. "DragRace" mode - imitates a Drag Race Signal Tree with 1/2 second intervals for starting race events.
"StopLight" mode imitates a stop light for Red light/Green light type games and traffic control uses.
"Cops" mode imitates the blinking sequences of many police car lights. Great for in-house type security uses, kids pretend games.
"Flasher" mode flashes all lights, rate is controllable - great for mode setting or dancing.
"Strobe" mode flashes all lights like flasher but much quicker, creating a stroboscopic effect. Great for danincing or creating special effects.
"Blaster" mode - lies dormant with a quick but dim sequencer running. When the adjust button is pressed, all lamps come on full power until the button is released. Great for kids games!
"Sequence" mode - runs each LED sequentially and repeats. Rate is adjustable. Great for dancing or special effects.
"Chase" mode - turns off each LED sequentially and repeats. Rate is adjustable. Great for dancing or special effects!
"UFO" mode - gradually brightens and dims all lamps in a smooth action. Great for special effects or dancing!



Weighs only 4.3 oz.
Comes with equipped with 3 AA alkaline batteries.
30-day Money Back Guarantee!
LIFETIME limited warranty!


YOU KNOW YOU WANT ONE!