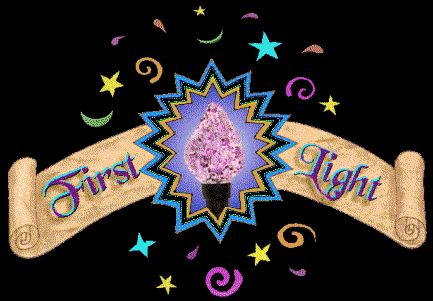 Imagine holding a flaming torch, where the flames are made of glittering iridescent water.....
Now imagine the flames changing color every time you move the torch....
....and granting your every wish for sparkling light in the New Year!

click on the blue star to see a fireworks display (if your browser supports Java)
"This is the perfect fit for our event....
Everyone I've shown it to loves it...."
(a quote from the First Night Millennium committee meeting)

First Light sales benefit your local First Night organization.

Click Here to Read Success Stories sent by various First Night Cities.




Real Video stream for 28k modems
Real Video stream for 56k modems

How to Use your First Light Liberty Torch
Fun ideas:

Take your Liberty Light into a dark room (the darker the belter) and shake or swirl to change colors.  Notice the disco effects on walls and ceilings. Take a friend with you and practice painting each other's faces with the different colors.  Notice the colored sparkles in each other's eyes. Try dancing in front of a mirror or window after dark with one in each hand (this is always a hit at parties!) Warning: In most cases, the adults are actually willing to give their Liberty Lights to the children they bought them for, but engaging in the above behaviors could be habit forming.

Changing batteries:

Pull hard on the clear plastic torch top (sparkle chamber) to separate it from the bottom flashlight.  Unthread the black bulb holder and replace the two AA batteries. You now have a capable stand alone flashlight, or replace the sparkle chamber for more safe and colorful special effects.