Green, Red, & Yellow: We recommend the Eveready CR-2032: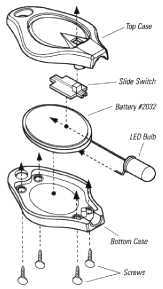 Remove four screws from bottom of the Photon with "0" size Phillips-head screwdriver. Flip case over so switch is on top.
Carefully separate top and bottom case.
Remove clear slide switch.
Hold bulb down with one finger and lift lead (wire) just enough to remove batteries.
Install new batteries.
Replace slide switch on slightly raised lead.
Position top case so slide switch extends through hole and close case.
Flip over and replace screws.


Important! Do NOT change bulb leads except for raising enough to replace batteries.
White & Blue: We recommend the Eveready CR-2016: